The Town of Penzance
Penzance Town
The ancient market town of Penzance is the Capital of the far west of Cornwall and is set in beautiful Mounts Bay - a body of water dominated by the grandeur of St. Michael's Mount. Located just 10 miles from Land's End, an area of Celtic culture and outstanding natural beauty surrounds the town.
Named "Pen Sans" in the ancient Cornish language, meaning "Holy Headland", referring to the headland to the western side of the harbour on which a chapel was established by early Christians well over 1000 years ago, the town received Royal Charters for its harbour in 1512, for markets and fairs in 1592 and was formally incorporated by Royal Charter in 1614.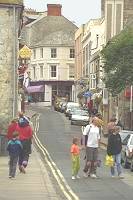 Since that time, it has been the main commercial centre for the entire Land's End peninsula - historically known as Penwith - and has the retail, commercial, residential and transport facilities needed for the whole area.
With a population of approx 20,000, it is both a market town and a popular tourist destination, and features an attractive promenade on the sea front. There are several historic houses in the town, amongst Regency and Georgian terraces, along with a number of museums and galleries.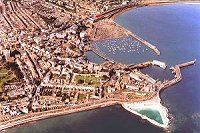 The town has the most westerly major harbour on the English Channel and, from there, ferry services operate to the Isles of Scilly, which lie some 28 miles beyond Lands End augmented by air services from Land's End.
Located in the far west of the County, Penzance is easily reached by either road or rail, with the A30 and A38 roads giving access from all parts of England, mainly by Motorway or dual-carriageway. There are direct rail links with London, the Midlands, the North and Scotland while express coaches coaches connect Penzance with all parts of the country as part of the national network.
In a sheltered position close to the sea, Penzance enjoys the most temperate climate of the British Isles while early spring flowers, vegetables and other produce demonstrate the mild weather conditions experienced here. Gardens, both formal and informal, provide a blaze of colour from early Spring through to late Autumn with numerous sub-tropical flowers and palm trees adding to the unique nature of the local environment.
Penzance is a lively, friendly town with a welcoming and united community.
The sea and beaches are clean and pollution free.
The surrounding landscape and coastline is of national importance.
Rich and diverse ecological resources abound in the area.
The area is eligible for investment assistance from a wide range of funding sources.
The Local Government Authority offers an efficient and effective planning service.
The area has a first rate educational achievement record.
Penwith has a vibrant, stimulating and active arts and cultural heritage.
A wide range of sport, recreational and entertainment activities and facilities are available.
Penzance is a safe and secure place to live, work and play.