Penzance Accommodation
Guest Houses, B&Bs and Guest Accommodation in Penzance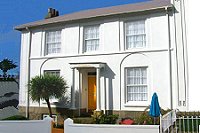 For a less formal experience, Penzance has a large number of Guesthouses and Bed & Breakfasts throughout the town, all providing a friendly service with most being owner-operated. They do provide an excellent range of facilities and offer great value for money and many hold National awards.
Select your preferred location and dates in the Availability checker to find Online Bookable accommodation.
IMPORTANT NOTE: During the current COVID-19 outbreak, properties are liable to be temporarily closed or unable to take bookings. However, for future dates, use of the Availability Checker will still permit up-to-date information to be found and bookings to be made. Full details of those properties and their procedures can be found on the providers' websites.
Clickable link to Location Map
Online Booking available
Member of Penzance Chamber of Commerce
Featured Guest Houses & Guest Accommodation
15 Regent Terrace, Penzance. Phone: 01736-363441
Alexandra Road, Penzance. Phone: 01736-362652
1 Mennaye Road, Penzance. Phone: 01736-333989
Alexandra Road, Penzance. Phone: 07906-662783
8 Penrose Terrace, Penzance. Phone: 01736-362782
The Promenade, Penzance. Phone: 01736-366882
Alexandra Road, Penzance. Phone: 01736-360063
Alexandra Road, Penzance. Phone: 01736-362614
Other Guest Houses & Guest Accommodation
Armeria Guesthouse - Guest House

61 Morrab Road, Penzance. Phone: 01736-365560

Armorel - Guest House

2 Leskinnick Street, Penzance. Phone: 01736-362415

Bay Lodge - Guest House

5 Chyandour Square, Penzance. Phone: 01736-351090

Bay View - Guest House

6 Penrose Terrace, Penzance. Phone: 01736-365440

Bleujennow B&B - Vegan Bed & Breakfast

2 Castle Road, Penzance. Phone: 01736-332238

Blue Seas Hotel - Guest Accommodation

13 Regent Terrace, Penzance. Phone: 01736-364744

Brockfield House - Guest House

8 Polwithen Road, Penzance. Phone: 01736-362644

Camilla House - Guest House

12 Regent Terrace, Penzance. Phone: 01736-363771

Carnson House - Guest House

2 East Terrace, Penzance. Phone: 01736-365589

Chapel House - Guest House

Chapel House, Chapel Street, Penzance. Phone: 01736-363761

Charelle Guest House - Guest House

26 Morrab Road, Penzance. Phone: 01736-364594

Chiverton House - Guest House

9 Mennaye Road, Penzance. Phone: 01736-332733

Con Amore Guest House - Guest House

38 Morrab Road, Penzance. Phone: 01736-363423

The Corner House - Guest House

20 Marine Terrace, Penzance. Phone: 01736-351324

The Dock Inn - Public House and Bed & Breakfast

17 Quay Street, Penzance. Phone: 01736-362833

Elmsdale Guest House - Guest House

Alexandra Road, Penzance. Phone: 01736-331734

Estoril Hotel - Hotel

46 Morrab Road, Penzance. Phone: 01736-362468

The Fountain Tavern - Public House and Bed & Breakfast

St. Clare Street, Penzance. Phone: 01736-332269

Garswood - Guest House

Alexandra Road, Penzance. Phone: 01736-359095

Glen Afton - Guest House

Alexandra Road, Penzance. Phone: 01736-361737

Glencree House - Guest House

2 Mennaye Road, Penzance. Phone: 01736-362026

Glendower Guest House - Guest House

5 Mennaye Road, Penzance. Phone: 01736-361737

Harbour Lights - Guest House

3 Lannoweth Road, Penzance. Phone: 01736-361813

Honeydew Guest House - Guest House

3 Leskinnick Street, Penzance. Phone: 01736-364206

Lombard House Hotel - Guest Accommodation

16 Regent Terrace, Penzance. Phone: 01736-364897

Lynwood Guest House - Guest House

41 Morrab Road, Penzance. Phone: 01736-365871

Morrab Place Bed & Breakfast - Guest House

4 Morrab Place, Penzance. Phone: 07989-393122

Ocean Breezes - Guest House

1 St Marys Terrace, Penzance. Phone: 01736-364112

Rosalie Guest House - Guest House

Alexandra Road, Penzance. Phone: 01736-351202

Seaforth Guest House - Guest House

20 Mennaye Road, Penzance. Phone: 01736-331682

Seaview Guest House - Guest House

2 Lescudjack Terrace, Penzance. Phone: 01736-364226

Shoreline Guest House - Guest House

17 Marine Terrace, Promenade, Penzance. Phone: 01736-366821

Sophia's B&B - Bed & Breakfast

The Promenade, Penzance. Phone: 01736-333363

Stanley Guest House - Guest House

23 Regent Terrace, Penzance. Phone: 01736-362146

The Summer House - Restaurant, Café & Guest House

Cornwall Terrace, Penzance. Phone: 01736-363744

Torre-Vene Guest House - Guest House

11 Lescudjack Terrace, Penzance. Phone: 01736-364103

Tradewinds Guest House - Guest House

21 Regent Terrace, Penzance. Phone: 01736-330990

Trenant - Guest House

Alexandra Road, Penzance. Phone: 01736-362005

Treventon Guest House - Guest House

Alexandra Place, Penzance. Phone: 01736-332730

Venton Vean Bed and Breakfast - Bed & Breakfast

Trewithen Road, Penzance. Phone: 01736-351294

Warwick House - Hotel

17 Regent Terrace, Penzance. Phone: 01736-363881

Westbourne Guest House - Guest House

Alexandra Road, Penzance. Phone: 01736-350535

Whiteways Guest House - Guest House

1 East Terrace, Penzance. Phone: 01736-366198

Woodstock Guest House - Guest House

29 Morrab Road, Penzance. Phone: 01736-369049

The Yacht Inn - Hotel, Public House & Bar

The Promenade, Penzance. Phone: 01736-362787