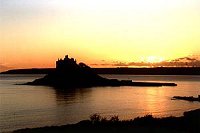 Located on the shores of Mount's Bay - a body of water dominated by the grandeur of St. Michael's Mount - Penzance is Cornwall's largest and most westerly borough. Only 10 miles from Land's End, the town is surrounded by an area of Celtic culture and outstanding natural beauty. Majestic cliffs, rocky coves, pristine sandy beaches and crystal clear seas vie with the heather and gorse of the moors and early Christian and Bronze Age sites to form a landscape that is the heritage of a proud culture, and a source of inspiration for artists, writers and poets.
Ancient fishing villages, cliff-top walks, sub-tropical vegetation and a wealth of industrial and maritime heritage combine with early Christian history and Celtic legend to make the district surrounding Penzance a fascinating area. The coastline of coves and caves, the area's history of smugglers and wreckers and its long tradition of music and song, inspired Gilbert and Sullivan to name one of the most famous of their productions "The Pirates of Penzance".
WEST CORNWALL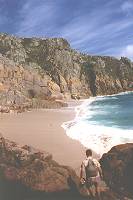 West Cornwall is a magical mix of golden beaches and rocky coves, of towering cliffs and lonely moorland, of flower-filled countryside and friendly towns and villages, all of which combine to make this famous 'Granite Kingdom' of the Land's End Peninsula one of the finest holiday destinations in Europe. This is a genuine 'other world', a truly 'different' holiday experience, a Mediterranean alternative that is still reassuringly British.
BEACHES
West Cornwall is famous for its crystal-clear ocean and its glorious beaches where the sand is like silk and where standards are so high that national beach awards for cleanliness and the quality of facilities are awarded every year.
THE GREAT OUTDOORS
Beyond the beaches is a spectacular landscape of awesome sea cliffs and purple heather moorland, wooded valleys and green fields, hidden corners and sun-soaked coves; a landscape of dramatic contrasts which makes West Cornwall an unbeatable venue for walking and riding and a paradise for the bird watcher and plant lover; and for the sea sports enthusiast, the seas round West Cornwall offer some of the best surfing, body-boarding, and windsailing in Europe.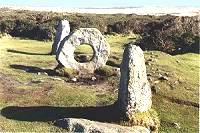 ANCIENT SITES
The Land's End Peninsula is noted for its wealth of ancient monuments, including Neolithic chamber tombs, Bronze Age stonecircles and standing stones, Iron Age forts, medieval wayside and prehistoric field systems. On the wild north coast and on the lonely moorlands of the peninsula stand the dramatic ruins of mine engine houses, symbols of the once great Cornish trade of tin and copper mining.
ATTRACTIONS & ENTERTAINMENT
Add to all this such major attractions as Land's End itself, the island castle of St. Michael's Mount, St. Ives Tate Gallery, the famous cliffside Minack Theatre, Paradise Park bird sanctuary at Hayle and numerous other fascinating museums, galleries and attractions, and for the best in food and drink, music and dancing, West Cornwall's restaurants, inns, pubs and clubs are hard to beat.
Welcome to West Cornwall, simply the best in the West